GNUnify, the annual open source symposium of Symbiosis Institute of Computer Studies and Research (SICSR), Pune was held this year on January 27-28. I had the pleasure of speaking there and very much enjoyed being in Pune again. The students of SICSR along with Harshad Gune, their professor and organizer of GNUnify '07, were again in great form and did a fabulous job in pulling together good talks on interesting topics.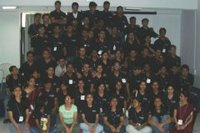 I always feel that Pune has a special buzz especially when it has to do with open source. Students from many colleges and developers from local IT companies such as Infosys, Red Hat, Persistent, Thoughtworks, Celunite all join in to make GNUnify successful. The Pune LUG is also refreshingly participatory and conducts very successful install fests!
Despite the long weekend for Republic Day, GNUnify was packed with FOSS fans, enjoying every thing about the event. Community, collaboration, and entrepreneurial ideas were highlights of the event. A lot of hallway conversations, ideas and FOSS project discussions added to the energy.
Looking forward to next year!