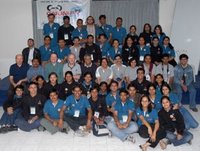 GNUnify opened with a roar this year! More than a thousand smart developers and hackers, technology-hungry engineering students, foss enthusiasts, international open source gurus and successful entrepreneurs gathered for two days of great tech talks, install fests, hack fests, BOFs and lots of hallway and canteen conversations. The energy throughout the conference was amazing. Every year, I've seen this energy rise and add to the momentum of the conference.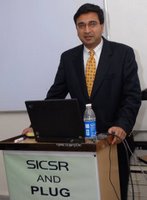 Harshad and his organizing team did a phenomenal job of covering an excellent range of topics in the conference program – from Mozilla Prism, Ruby on Rails, PHP, MySQL, Erlang, Django to visual design tips, network management and security. Every room was packed with spillover seating on the speaker dais. BOFs on IndLinux by Karunakar, LinuxChix India by Runa were well attended. The workshops and hands-on tutorials were packed beyond lab capacities with more than 80-90 attendees in each session. Topics such as mobile Linux, Ruby on Rails were immensely popular and the install fests for Fedora and Mandriva were just plain fun.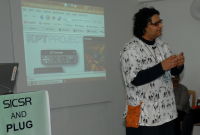 There were a lot of talks I wanted to attend but could only manage to squeeze into Brian's talk on 10 things to know about open source, Niyam's talk on visual design (really well done), Chander's talk on building a open source company (great talk!) and David's MySQL state of the union.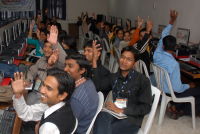 I ended up helping out for the Ruby on Rails workshop by Bob and it was sensational to see 80 keen hackers going through the process of building a Rails application and building an interface to MySQL. Talk about some serious energy, enthusiasm to learn and hack some cool code!
I particularly enjoyed meeting FOSS friends from all over India – from Chennai, Bangalore, Hyderabad, Mumbai, Delhi, Kolkata, Pune, Goa and many more places. My congratulations to Harshad, his super team of wonderful volunteers from SICSR's student community and the tireless Pluggies (Sudhanwa and his team) who put in countless hours of effort and commitment to make GNUnify a rip-roaring success this year. Thanks to Vijay for his great photo coverage of Team GNUnify!
GNUnify just keeps getting better

and better every time! Let's keep it going like the Energizer Bunny!